If you're looking for artificial grass in Swindon, you've found the right place. Acer Paving & Landscaping have completed numerous artificial grass lawns and play areas for homeowners, businesses, schools and childminders in Swindon over the last few years.
We were pleased to be awarded the contract to provide and lay an artificial grass play surface for The Sun Inn at Coate in Swindon a couple of years ago. Shock pads were used under the play equipment for safety, (in case of a fall), and the whole area was made easy to maintain and safe for children to play on.
We visited The Chalet School in Liden, Swindon twice in 2012. The first time to provide artificial turf for an existing play area in the school grounds, secondly to lay artificial grass for the new outdoor gym they had installed for the children. In both cases we used the excellent Namgrass Green Meadow artificial grass, (a grass that we find equally popular for our artificial lawns).
Artificial grass has been equally popular with Swindon Childminders. The problems they face are similar to the school and pub play areas – areas of grass that are muddy, messy and slippery at certain times of the year, making them unsuitable for play activities.
Our Swindon clay makes maintaining a nice, clean lawn a real challenge. Artificial grass eliminates the drainage problems, (if laid correctly – watch out for those that shortcut this vital element) and provides a clean play surface all year around.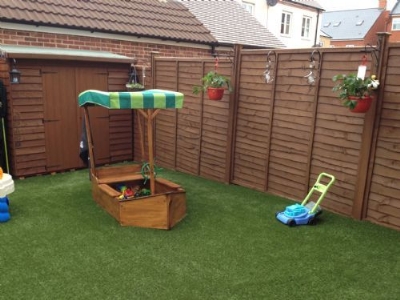 We can imagine that having a safe and clean outdoor play area for the children under a Childminder's control is a real bonus. We're also sure it will impress any parents viewing the facilities available when choosing their Childminder. Having a play surface equal in quality and installation to those at local schools, must be a real selling point.
Our Swindon lawns aren't easy to maintain as we're sure, many of you have discovered already. It's often a combination of heavy clay soil, poor drainage, shade from adjoining houses and fences that make keeping a nice lawn a challenge. Some of our Swindon customers just want an attractive and easy to maintain lawn, with no mess and no more mowing !
Others have children and want a nice lawn that they can play on in all weathers, (almost!). Similarly homeowners with grand children want a safe play area in the garden for when they visit. Installing artificial grass can provide the solution for these scenarios, the days of treading in mud and mess will be over!
Swindon homeowners with pets often call on us to provide a clean environment for their dogs to play and exercise on. Artificial grass doesn't stain, can easily be washed clean if necessary and if the lawn is really small or there are several dogs, special deodorants are available. We've found in most circumstances this isn't necessary and the homeowner can look forward to an easy maintain lawn that their pets won't get covered in mud on every time they venture out.
Acer Paving & Landscaping are Approved Installers of Namgrass artificial grass. Namgrass is one of the top brands in the UK artificial grass market, its products are made to very high standards in the EU and come with a 10 year manufacturers guarantee.
We are happy to provide a free survey and quotation for your Swindon artificial grass lawn or play area. We always carry sample of our grass with us, but if you'd prefer to order some samples for yourself, please contact Namgrass UK, who will promptly send some out –
——————————————————————————————————-
About Acer 
gary@acerpaving.co.uk
01793 729200 / 07802 752576